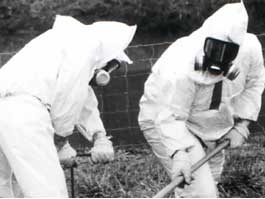 MoMA: To Save and Project
A newly minted 16mm archival print, made possible in part by Women's Film Preservation Project, was exhibited as part of the sixth edition of To Save and Project: MoMA's annual International Festival of Film Preservation.

VIETNAM: THE SECRET AGENT
Producers: Daniel Keller and Jacki Ochs

The terror and dangers of chemical and biological weapons have never been greater than they are today. Their pivotal use in modern times was during the war in Viet Nam. Agent Orange, sprayed over Viet Nam to demolish jungles, as well as in the United States to control weeds, contained a powerful deadly contaminant — dioxin.

Using striking archival and war footage, interviews with veterans, scientists, attorneys, the V.A., and Dow Chemical Company, The Secret Agent documents the extraordinary history of chemical warfare and agricultural herbicides, the effects on our environment, the plight of all those exposed, and the tragic legacy of the American spray program.

This film is a co-production between Human Arts Association and Green Mountain Post Films.
Website: with new trailer at VietnamTheSecretAgent.com
Awards:
MoMA International Festival of Film Preservation
New York Film Festival
Special Jury Prize, Sundance Film Festival
Blue Ribbon and John Grierson Award, American Film Festival
Best 60 Minute Film, Hemisfilm
Reviews & Endorsements:
THE NEW YORK TIMES
...excellent...a tough, angry look at the consequences of exposure to Agent Orange...a chilling issue that is effectively addressed here.

VARIETY
The Secret Agent is grim stuff that leaves a viewer disquieted and fearful he's seeing only the tip of a very big iceberg.

DAILY NEWS, Earl Caldwell
It is a powerful film that has the kind of information on Agent Orange that a jury should have listened to in a courtroom.

BOSTON GLOBE
... the year's most terrifying horror movie. It perfectly captures the moral dilemma of a nation that sent young men to war in Asia and then watched some of them die when they got home.

LOS ANGELES HERALD
... one of the most incisive and damning documentaries ever made about corporate abuse in this country.
Bio:
Jacki Ochs' award-winning documentary The Secret Agent received the Special Jury Prize from the Sundance Film Festival and premiered at the New York Film Festival, among many other honors. Her film Letters Not About Love, based on a correspondence between a Russian and American poet, received Best Documentary Feature from the SXSW Film Festival and Visionary Artist Award from Huntington International Film Festival. She is the recipient of a Guggenheim Fellowship. Most recently Jacki Executive produced the award winning Untold Story of Emmett Louis Till and produced 9/12: From Chaos to Community. Her work has been broadcast worldwide.